02: The Varied Potential Careers of Norville Barnes
After Old Moses's opening monologue giving us the film's framing device of potentially suicidal Hudsucker Industries President Norville Barnes on the edge of his balcony on New Years Eve 1958, the credits roll and we find ourselves in the first real scene of the film: a parallel narrative of a young Norville Barnes having nothing but potential, and an old Waring Hudsucker, having everything but realizing he has nothing left to live for. It is also the first point at which more jokes are thrown at the viewer than can possibly take in at a time. 
Upon disembarking the Muncie, Indiana to New York City bus via the Wolverine Bus Company (a bus company that no doubt no longer exists as it decided a route whose terminus would be Muncie, Indiana would be a profitable one), Norville walks to a job board that advertises the following jobs, all of which are listed as experience being required: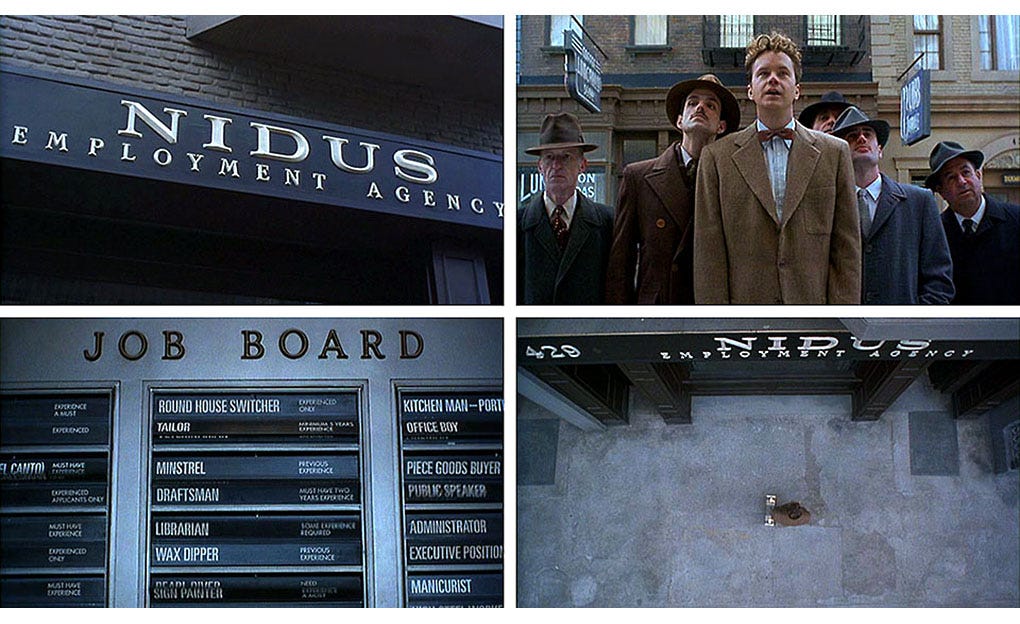 Milliner
Cantor (Reform)
Vice President
Shoe Salesman
Die Setter
Business Executive
Estimator (Chief)
Pinboy
House Painter
Tool & Die Maker
Security Guard
Printer Feeder
Round House Switcher
Tailor
Plumber
Kitchen Man - Porter
Dr. Of Internal Medicine
Prison Warden
Tobacconist
Pastry Chef
Foundry Worker
Glass Blower
Cabbie
Piece Goods Buyer
Diaper Delivery
Manager
Illustrator
Administrator
Executive Position
Vacuum Cleaner Salesman
Glass Blower
Third Base Coach
Furniture Mover
Jackhammer
Chiropodist
Auctioneer
Toll Collector
Variety Act
Sign Painter
Pullman Conductor
Wine Steward
Pearl Diver
Traffic Manager
Bombardier
Handyman
Drawbridge Operator
Monitor Board Operator
Components Engineer
Trombonist
Exotic Dancer
Judge
Justice Of The Peace
Elevator Operator
Sparring Partner
Haberdasher
Bus Driver
PBX Operator
Barber
Shipping Clerk
Copyist 
Masseuse
Lifeguard
Baker's Helper
Auto Mechanic
Wet Nurse
Beadle
Compositor
Green Grocer
Artiste
Butler
Merchant Marine
Sandhog
Card Shark
Office Boy
Wax Dipper
Minstrel
Proof Reader
Ditch Digger
Dentist
Corner Man
Fireman
Soda Jerk
Bouncer
Exterminator 
Jeweler
Language Tutor
Pattern Maker
Jingle Writer
Bee Keeper
Cashier
Motorman
Tanner
Smithy
Furniture Mover
Valet (Personal) 
Carny
Export Clerk
Dough Kneader
It is not merely that this list is of a ridiculous size for a single job board (it is).  It's not just that the job board reminds us of the existence of absurd sounding careers of the past like Sandhog, Soda Jerk, and Pinboy (but it's that too). It's not even the juxtaposition of jobs like Justice Of The Peace and Vice President against jobs like Carny and Wet Nurse (but it's also a part).  The genius of this scene is that the entirety of these 97 jobs unfolds on screen with most occupying a tiny bit of the screen's real estate over the course of about 40 seconds of screen time, with half of those 40 seconds taken up by reaction shots of an increasingly despondent looking Norville Barnes. Trombonist (experienced applicants only) is on screen for the faintest two frames, a twelfth of a second. Given that a human blink takes about a third of a second, dozens of these jobs' screen time is literally "blink and you'll miss it".  I have watched this movie every New Years Day for at least twenty years, and it was only in the course of writing this essay that I ever noticed that "Cantor (Reform)" was listed among the jobs Norville Barnes is unqualified for. 
The Hudsucker Proxy was the highest budget film the Coens had made to date. Their previous film, 1991's Barton Fink was budgeted at $9 million.  It lost money with its modest $6.5 million box office but its high marks at Cannes and its critical acclaim meant that the Coens and 20th Century Fox made up in cultural capital what they didn't make in actual US greenback dollars. Their subsequent film, 1996's Fargo cost $7 million*, which not only grossed $60.7 million at the box office but also earned the Coens incredible accolades, including seven Oscar nominations and two wins (and let's be real here, is The English Patient actually a better 1996 film than Fargo? It should have been best picture). Hudsucker meanwhile had a budget of $25 million and made made a meager $2.8 million at the box office, won no significant awards, and to date has a Rotten Tomatoes score of 56%, which allegedly objectively makes Transformers (2007, dir Michael Bay) a better movie with its score of 58%. By all accounts it was a massive flop.
Yet it remains compelling.  I may be a yahoo with no real credentials, yet still I find Hudsucker interesting enough to devote a calendar year to it, and I think this opening scene provides a huge hint as to why.  It's not that The Hudsucker Proxy hints at hidden depths to be revealed with careful viewing, it's that it actively hides its virtues. The hilarious job list, taking both gargantuan effort both creatively** and technically in that creating an actual physical rotating sign job board was created for the sole purpose of a 50 second long vignette to show that our fresh faced graduate protagonist is unqualified for any job save that of the Hudsucker Industries mail room. If Hudsucker doesn't charm you on first viewing, it will never reveal its secrets to you as you'll never watch the film a second or third time, and may never notice that in its cinematic universe someone has paid money to an employment agency to advertise that they require the services of an experienced Wax Dipper. 
*I don't know if it's a sign of how helpful or how destructive the internet is that when I googled "Fargo Budget" I was immediately given a result for the amount the 1996 film cost and three results down was the website for the budget oversight office of the city of Fargo, ND. 
** If you doubt that it doesn't take substantial effort to create this list, I invite you to simply name 97 different jobs.  Now make that list funny.